the unofficial homepage of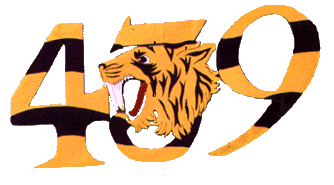 Tiger Squadron
Medals and Awards
The Distinguished Flying Cross
Photo 439 Archives

CROSBY, S/L Robert Gordon (C22655) - Distinguished Flying Cross - No.439 Squadron - Award effective 23 March 1945 as per London Gazette dated 3 April 1945 and AFRO 765/45 dated 4 May 1945. Award sent by registered mail 24 February 1950.

During a lengthy operational career this officer has attacked the enemy with determination on a wide variety of sorties. He has led fighter patrols, anti-shipping missions, armed reconnaissances, and dive-bombing operations against railway sidings, strong points, and enemy troop concentrations. During the recent German offensive in Belgium, his squadron under his leadership destroyed or damaged a large number of enemy vehicles and shot down six enemy fighters in three days. Squadron Leader Crosby has invariably led his squadron with outstanding courage and determination against even the most heavily defended targets.



NOTE: On 22 January 1945 he was reported missing, believed killed. He actually survived, but a report filed by F/L J. Carr (Acting Commanding Officer, No.439 Squadron) makes for interesting reading:
Nine aircraft of this squadron took off at 1610 hours on 22 January 1945 led by S/L Crosby, on a Ramrod carrying 1,000-lb bombs (C.25 tail fused), to dive bomb the town of Uetterath, Germany, which is about five miles north of Geilenkirchen [sic]. On reaching the target area, the squadron orbited once over the target and then S/L Crosby led it into a 70° dive from approximately 7,500 feet. He appeared to fly straight into a concentrated barrage of heavy, light and accurate flak. At 1645 hours, his No.2, F/O Harrison, saw strikes on his aircraft and almost immediately a huge black puff of black smoke which turned into a red ball of flame. The whole of the aircraft with the exception of the engine and parts of the wings disintegrated and went down flaming and crashed into the town of Uetterarth. F/O Harrison claims that the bombs were still on when the aircraft exploded but lost sight of them in the debris. S/L Crosby was not seen to have baled out.
Acknowledgement
The information contained in this segment is provided by The Air Force Association of Canada and Hugh A. Halliday who is the author of the RCAF Personnel - Honours & Awards - 1939-1949 which can be found on the Air Force Association of Canada Website. Used with permission and sincere gratitude.
Additional Resources Canadian Medals and Decorations
Copyright ©1998-2016 Michael T. Melnick. All rights reserved
the unofficial homepage of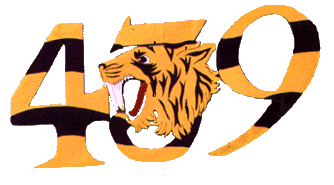 Tiger Squadron