This Day In History
Summary of Events for No. 439 (CAN) Squadron
as recorded in the 439 Squadron Operations Record Book
for
24 January 1944

Ayr, Ayrshire, Scotland

One flight carried out this morning, but strong wind came up and flying discontinued for remainder of day. Movie entitled "Nought Feet" shown to us in Photo Section. Pilots spent remainder of the day looking over the Typhoon in the Maintenance Hangar.
Detail of Work Carried Out by No. 439 RCAF Squadron
as compiled by in the 439 Squadron Operations Record Book Form 541
A/C Type & Number
Crew
Duty
Up
Down
*

*

*
*
*

Details of Sortie or Flight

No Operations were carried out on this date.
Copyright ©1998-2016 Michael T. Melnick. All rights reserved
the unofficial homepage of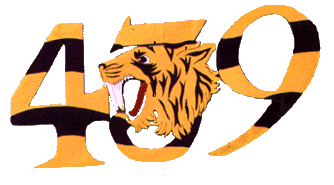 Tiger Squadron

. .